Developing a Business Strategy in the Digital Age
April 19, 2021 Design 4 Min
In the digital age, with new businesses entering the market faster than ever before, things change quickly and strategies evolve even faster. It is vital to have a deep understanding of your business, your product, and your environment, in order to maintain a degree of flexibility, be able to evolve quickly, and stay ahead of the curve.
There are three main strategies to be explored: overall business strategy, corporate strategy, and competitive strategy. It is vital to have a solid understanding of the three strategies and how they interact with each other which will help guide decisions, measure success, and answers the question of how your objectives will be achieved.
Building your Strategy
Start with an in-depth internal and external analysis. Look at your resources and capabilities; resources is what you have, and capabilities is what you're capable of doing with them. This includes talent, capital, assets, IP, etc., and can be in the simple form of a list.
For a more in-depth internal analysis, we will be exploring the Business Model Canvas, and for the external analysis, Porter's Five Forces.
Internal Analysis: Business Model Canvas
The best strategies are those that are utilized by the entire team, adaptable, and easy to follow. To help us with that, keeping in mind our resources and capabilities, we use the Business Model Canvas by Alexander Osterwalder which will help you summarize your entire business strategy on one page: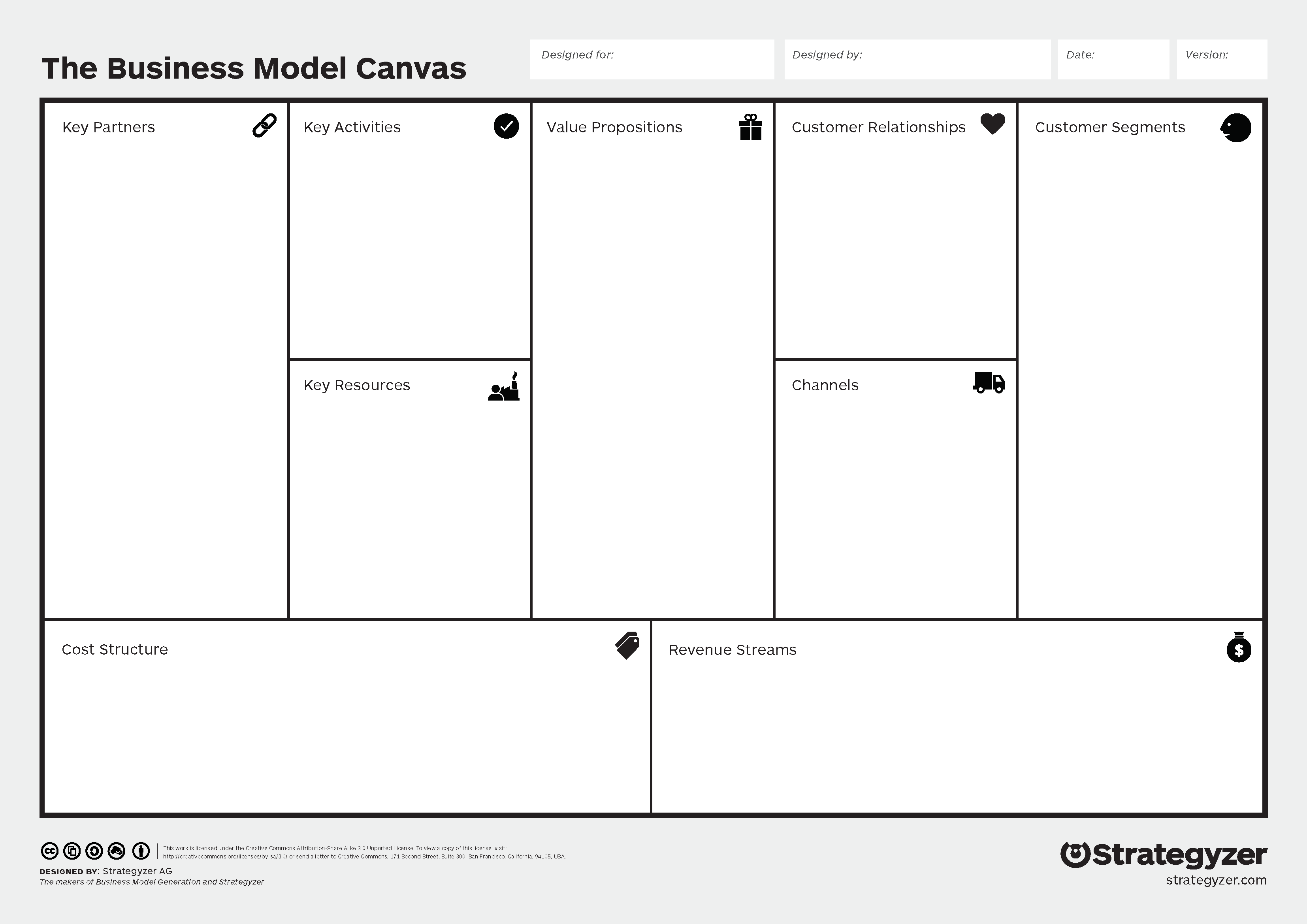 Starting with the middle, we have the Unique Value Proposition (UVP). The UVP answers the questions of: What value is being delivered to the customer? Which problem is being solved? What unique solution will you offer to satisfy the customer's needs?
On the left side, we have the canvas blocks in relation to the product, the internal operations.
Key Partners: Who are your key partners/suppliers? Which key activities do they perform or key resources that they supply?
Key Activities: What key activities are necessary to carry out the UVP? Operations? Production? Distribution?
Key Resources: What key resources are necessary to carry out the UVP? Financial? Physical? Human? Intellectual?
Cost Structure: What are the costs associated with carrying out the UVP? Consider both fixed and variable costs. Will you be a value driven business focusing on providing premium value? Or will you be a cost driven business focusing on providing the leanest cost structure?
On the right side we have our canvas blocks in relation to the market, the external operations.
Customer Segments: Who is the customer? Who is the end user of the product? Where can you find them?
Customer Relationships: How will you connect with the customer? What kind of relationship do they expect? Does this relationship come at a cost?
Channels: How will you reach your customers? Where can you find them? Which way is the most effective?
And lastly, we have the Revenue Streams. For what value are your customers willing to pay? How do they prefer to pay? When do they prefer to pay?
The Business Model Canvas gives you an overview of your overall business strategy on one page and assists in evaluating an appropriate product-market fit.
External Analysis: Porter's Five Forces
Next, we will delve into the external environment by utilizing Porter's Five Forces analysis. Although it is meant to determine the competitive landscape and attractiveness of any given industry, it is useful in directing how to position yourself within that industry.
Threat of New Entrants: What are the entry barriers? Are people loyal to their brands? What are the capital requirements to open a business? Are there any affecting government policies? What are the switching costs?
Threat of Substitutes: How many substitute products are available on the market? Are there any tendencies for buyers to seek out substitutes? What is the perceived level of differentiation? Relative price performance of the substitutes?
Bargaining Power of Suppliers: How many suppliers are there? What is their scale? How unique is their product? How easily are you able to substitute?
Bargaining Power of Buyers: How many customers are there? What is the average size of their orders? How price sensitive are there? How big is the differentiation between you and your competitors? How easy is it for your buyers to substitute you? How much and what kind of information is available to your buyers?
Rivalry Amongst Existing Competitors: How many competitors are there? What is their diversity? What is the yearly industry growth? What is the differentiation between competitors? How loyal are their customers? What are the barriers to exit?
You should now be well equipped with three analysis: a list of your resources and capabilities, a Business Model Canvas, and an in depth market overview using Porter's Five Forces. These three analysis will aid in building your business strategy, positioning yourself within the market, and being aware of the interdependencies within your business and the industry. The key to success in the digital age is being on the forefront of information, keeping your strategy lean, and always being prepared to adapt.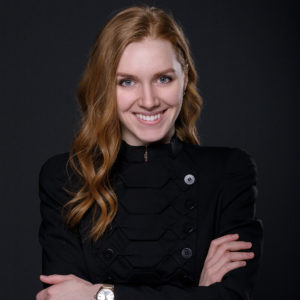 Mariya Besedina
Mariya and the team equip prominent brands with bespoke digital solutions that accelerate business growth and propel brands to a global stage.
Ready to get started and transform your business through the power of data?
Our thoughts on digital, technology innovation, and the future of marketing.